This is an expedition that will see the first Indian adventurer rowing across the Atlantic Ocean, from mainland to mainland, in a custom-made boat, solo and unsupported. More people have travelled to space and have stood atop Mt Everest than have rowed across any of the three mighty oceans – Atlantic, Pacific or Indian. Till Sep 2018, according to current research, there have been only 497 successful ocean crossings (Atlantic, Pacific or Indian) , of which only there have been only 147 individuals who have made successful solo crossings. More people have been to space or stood on top of Mt Everest than have rowed across oceans.
OLD AND RESTLESS will be the first time an Indian will be rowing across the Atlantic, from mainland to mainland.
Yes, Bhavik Gandhi in 2007 rowed 3,285 km across the Atlantic Ocean over 106 days 9 hours and 30 minutes as part of the Talisker Whisky Atlantic Challenge. It was not from mainland to mainland. The OLD AND RESTLESS expedition will see Chandan rowing across the Atlantic Ocean from mainland Africa to mainland South America. This will be a testament to human endeavour and achievement and proof that nothing is impossible for those who are willing to try.
The videos above tried to provide an answer to the question WHY? Well, if you are not an explorer, or at least an adventurer, it is very difficult to explain the reasons behind embarking on a journey that is defined by fatigue, frustration, injuries, blisters, salt water sores, sleep deprivation, hunger, thirst, the ever-present thought of a rogue wave chopping the flimsy boat into pieces and an agonising and painful admission into a watery grave.
To the adventurer, to the explorer, this is all worth it. A sense of personal achievement that defies all logic, a knowledge that one is listed in that very short list of people who have accomplished the very same thing. In fact a list that has just about 150 people on it. That is surely something that can be aspired to.
However, this is an adventure that brings one face-to-face with the basic realities and necessities of life. Home that is about 100 sq ft, no backyard to take a walk in, not a moment without being rocked and rolled, in a land of endless and monotonous blue, where all that one does is row, eat, sleep, repeat. Every drop of water has to be desalinated and every drop spilled is one less drop to drink, and one extra drop to be "manufactured". Food is dehydrated freeze-dried food that is not particularly tasty.
One realises how important the little things in life are.
A bar of chocolate. A glass of cold water. A chilled beer. An entirely unhealthy meal. Dry and solid land. Adversity stares one in the face and either one overcomes it … or perishes. There is only one purpose in life and everything one does is geared towards accomplishing it … get to the end ALIVE. One stroke at a time, one mile at a time. It is about putting in one paddle blade after another in the water, covering one mile at a time. Like I keep saying about this expedition …
It is not a 8,000 km expedition, it is a one kilometre expedition repeated 8,000 times!
There will be three legs of this massive expedition:
| | | |
| --- | --- | --- |
| Leg 1 | Dakar to La Gomera, Canary Islands | ~ 1,500 km |
| Leg 2 | La Gomera to Antigua (as a participant in the Talisker Whisky Atlantic Challenge) | ~5,000 km |
| Leg 3 | Antigua to Georgetown, Guyana | ~1,300 km |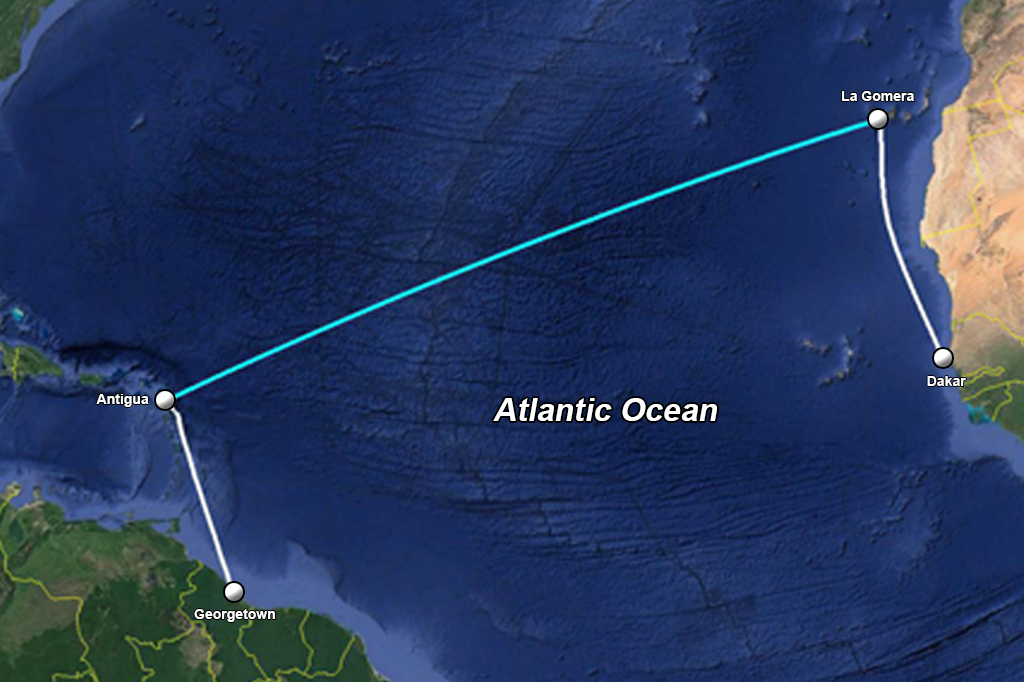 The entire journey is expected to be completed by rowing in excess of 2 million oar strokes
There is no day and no night, rowing is continuous – 2/3 hours on and 2/3 hours off, 24 hours a day, for over around a hundred days
The waves can measure up to 20 feet high
Water consumption is estimated to be 10 litres per day
Burning in excess of 5,000 calories per day
There is no toilet on board – use a bucket
Lose more than 15 kg of body weight by the end of the expedition
When the weather turns, the only option is to hunker down in the single-bed-size cabin, praying the boat does not capsize, and hoping the storm passes quickly
Claustrophobia, boredom, cabin fever, hallucinations are possible in the best of times, and certainly when the weather is bad and the boat is being tossed around by waves as big as buildings
There is no way one can go take a walk to clear one's head
For two to three months, home is a 100 sq ft boat that is rocking and rolling every day, every hour, every minute, every second … an experience described as being inside a washing machine
The boat of choice is the R25 Solo
This is the fastest and safest ocean rowing boat on the market for solo rowers
Designed and built by Rannoch Adventure
Rannoch boats have been involved in a world record in every ocean and every race
They have produced more ocean rowing boats than any other boat builder in the world, trained over 200 individuals, and rowed over 20,000 nautical miles in ocean rowing boats
Over 50 years experience in all forms of marine craft
Rowers on Rannoch Adventure boats collected twelve World records in the latest Guinness World Records Book 2020
Their production boats are the only boats that are CE certified
Every race category entered has been won by a Rannoch boat
They also conduct training sessions to prepare people for ocean crossings – onshore and offshore, equipment advice, weather routing, tactics and boat logistics
Training for OLD AND RESTLESS will be conducted at the Rannoch Adventure facility in Essex, England.
Almost 60% of the OLD AND RESTLESS expedition will be as a participant in the Talisker Whisky Atlantic Challenge that is managed and organised by Atlantic Campaigns SL
The Talisker Whisky Atlantic Challenge (TWAC) started in 1997 and is a premier ocean rowing event in the world
It takes adventurers more than 5,000 km West from San Sebastian in La Gomera, Canary Islands, Spain to Nelson's Dockyard, English Harbour, Antigua & Barbuda
The annual race begins in early December with up to 30 teams participating from around the world
People participate either solo or as teams of two, three, four or five
Teams battle sleep deprivation, salt sores, and physical extremes inflicted by the race
Rowers are left with their own thoughts, an expanse of the ocean and the job of getting the boat safely to the other side
The mental and physical endurance results in a life-changing achievement, that will never be forgotten
The team behind the race brings an unparallelled level of support and knowledge with seven ocean rows, seven Guinness World Records and a combined total of over 50 years ocean rowing experience which is seen in the unrivalled success of the race
A safety team is constantly monitoring the progress of the team
Safety boats are just a few hours/days away
All race entrants must hold the following qualifications: RYA Essential Navigation & Seamanship, RYA Sea Survival, RYA First Aid at Sea, Short Range Radio Licence, and the Ocean Rowing Course certificate
Visit the Talisker Whisky Atlantic Challenge YouTube page for lots of videos on this annual race … https://www.youtube.com/user/taliskerchallenge
OLD AND RESTLESS is not a gentle paddle on a river, lake or other enclosed body of water. Nature is unpredictable, particularly the sea; there is no hardware store one can walk into, no mechanic to call, the closest piece of solid land is under the boat, on the ocean floor and it might take days for a rescue vessel to reach. The journey has to be self-contained and self-reliant. There are a lot of things that can go wrong … and probably will. We need to prepare for as many possible exigencies as we can. Safety is paramount and we will not risk our lives due to either not equipping ourselves, not taking the necessary precautions, or simply being foolish, stupid and foolhardy. We need to do is to equip ourselves adequately. Some of the gear will be as follows: 
Personal and boat gear
» Repair kit for the boat
» Spinlock Deckvest 5D life jacket

» Four spare paddles
» Para anchor and Drogue

» Printed nautical maps
» Air horn
» Whistles
» Dive knife
» Spectra Ventura 150 Deluxe Watermaker
» Katadyn Survivor 06 manual watermaker

» Renogy 320 Watt 12 Volt Solar Panel
» Lithium ion marine battery
» Goal Zero Yeti 1400 Lithium Solar inverter

» Survival suit
» Liferaft
» Ditch kit
» Goglobe Boat Safety Kit
Navigation



» Raymarine Axiom 9 MFD and Quantum Q24C Radome Radar

» Navigation lights
Search and Rescue



» Yellow Brick YB3 satellite tracker

» EGLOBALFIX V4 and ResQLink 400 Survival Kit
» EPIRB
» PLB

» Raymarine AIS Class B AIS650

» Flares
» Lifesaving Systems Corp Sirius Long Range LED Strobe Light

» GPS Tracker App
Communications equipment



» Satellite phone

» Garmin VHF 210 AIS 010-01654-00 Marine Radio
» ICOM IC-M93D Marine VHF Handheld Radio with GPS & DSC
OLD AND RESTLESS is not only painted on a unique canvas, but brings with it some challenges. The degree of difficulty is fairly high and without the help, support and participation of well-wishers, associates and sponsors, it will be impossible to conduct this expedition.
This also provides the opportunity to associate with an expedition that will put the adventurer in a very short list of less than 1,000 people who have rowed across an ocean … in history. There are many opportunities for generating positive and extensive public relations for the associating brands.
Even though the expedition is scheduled for the last quarter of 2021, about two years away, time is of paramount importance. In fact, entries for the 2021 Atlantic race has already commenced and the participation slot has to be booked by sending the entry fees.
Do let us know of your interest in an association by filling the form below and we can take it from there.
[contact-form-7 id="4″ title="Contact form 1″]
OLD AND RESTLESS is an expensive expedition. After all we are trying to row across an ocean in what might take more than a hundred days. Everything needs to be carried on board … there will not be any possible assistance from anyone considering that the closest human being will be up in the Space Station.
We are reaching out to friends, relations, colleagues, acquaintances, well-wishers, even doubters and nay-sayers to join hands with us and support us in making this impossible dream come true. We are initiating something called  SPONSOR A KM wherein you could become a supporter of the expedition and a virtual member.
If your support is at least 5 km, we will write your name on the boat as a token of our gratitude.
How many kilometres are you willing to sponsor? Click here to sponsor.
We are hoping that we will be able to get enough people to sponsor enough miles to help us start designing and building the boat. This is the boat we are looking at … Rannoch 25 Solo.
Additionally, you could pick up an expedition T-shirt. Revenues from the sale will go into building the corpus. Click here to buy the t-shirt.
"Only those who attempt the absurd can achieve the impossible."
– Albert Einstein
1,705 total views, 1 views today