A Slow Boat Down the Ganges
Starting Oct 02, I paddled my sixteen foot inflatable canoe nearly 2,500 km from Haridwar to Kolkata, raising awareness about pollution on one of the world's greatest rivers, India's holiest and unfortunately one of the most polluted. I was paddling solo, and for the large part did not have any road support. I have learnt a lot about the Ganges, about the people who live on her banks, and about myself. Take a look at this page to learn more about this incredible journey.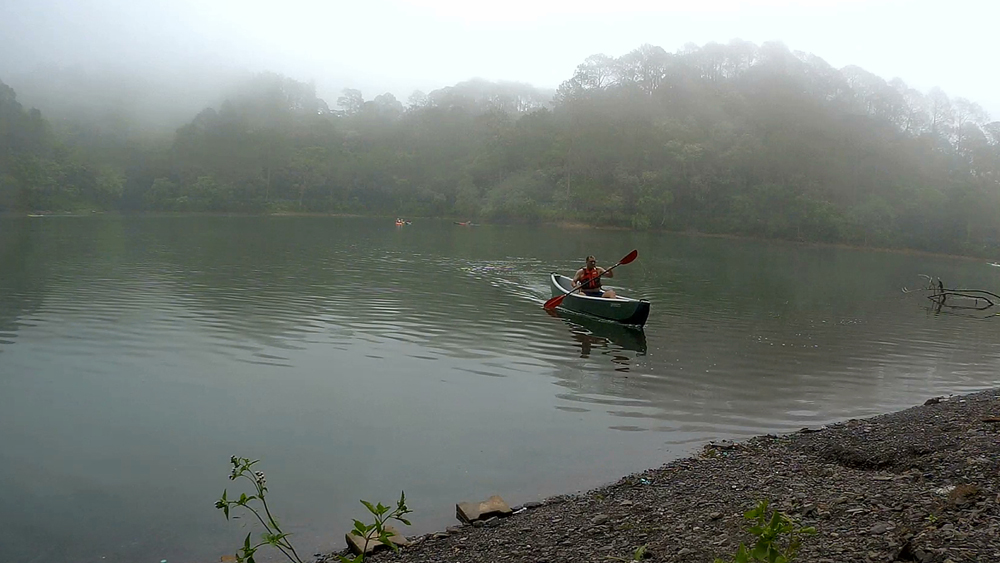 The Canoe Stories is a series of paddles across lakes, rivers and oceans. Around India and around the world. It has already commenced and I have completed three parts of the Canoe Stories, on three lakes in Uttarakhand. There are a lot of rivers and lakes that I am excited about, but the five paddles I am really looking forward to are Odyssea, the Amazon, the Volga-Matushka, the Sri Lankan circumnavigation, and the Yukon.
In 2016, I padded down a section of the Ganges in a cataraft made out of PVC pipes.
Surviving in the Wilderness ... and yet again
This is the video of the third time I spent 30 days living as a castaway. I am personally not too proud of this effort and have promised myself that this will definitely have to be relived.
Surviving in the Wilderness ... again
This is the video of the second time I spent 30 days alone in the wilderness teaching survival skills. The core group was Daniel Agar who came from England to attend the Course, and my good friends Mark and Sandra Palmer gave us company for about three weeks, in parts. It was the season of rains, and just a couple of days before our 30 days came to an end, a flood came calling, threatening to sink our camp. We had to abort three days short of 30 days. Overall it was a great experience and I cannot wait to go through it once again. Hope you enjoy the video.
Surviving in the Wilderness
Thrice I have spent 30 days alone in the wilderness showcasing survival skills and turning that entire experience into a self reliant one. Well, we were two of us … Adnan and I. A lot of people feel I am cheating when I say that this was an "alone in the wilderness" experience. Well, in my mind, the two of us were alone in the wilderness for 30 days. So there. This is the video of the first effort.
A Guinness Record Attempt
In 2013 I lead a team of three motorbikers in an attempt at scaling the highest point on motorbikes. Unfortunately, this effort had to be aborted due to bad weather that hit us, some say the worst in a couple decades. I was stuck at Keylong, while my team members were waiting for me in Leh, neither knowing how to contact each other. Some day, this effort will be attempted again.
On Aug 31, 2004 I led a team of six motorbikers across four of the world's highest roads in 23hrs25 to earn my second world record. In fact, it was during this expedition that civilians in general and adventure motorbikers in particular heard of the 18,638 feet high Marsimik La, the highest motorable road in the world … higher than the more popular Khardung La.
My First World Record
On Oct 2, 2003 I undertook a solo motorcycle expedition to Ladakh and created a new, and achieved my first world record, by traversing three of the world's highest passes in 14hrs44 riding at altitudes of over 15,000 feet. This was also the time I almost died. My bike gave up at 16,500 feet near Baralacha La and despite everything including speaking to he nicely, she refused to throb to life. I was not acclimated enough, but had to sleep the night, out in the open. Fortunately I had a sleeping bag, and the weather was nice and not too windy. Fortunately, I woke up the next morning, thanked my stars that I had not died in my sleep, and pushed the bike for about a hundred odd kilometres before I could find a mechanic. It was overall a great experience, with a World Record to brag about.
Venturing into Ladakh
In Jul 2003, I led a team of ten motorbikers on a 14-day expedition to Ladakh and travelled on roads seldom frequented. This was one major effort, since none of the members had ever ridden to Ladakh, and no one had ridden together. The road was unknown and we had no idea about what to expect. These were the days when Ladakh was still virgin and not many people ventured to that region. Some opine that this team was the first one to motorbike from Tso Moriri to Pang via Tso Kar. Today the roads are much better, the infrastructure in terms of roads, hamlets, shops and signboards have made it much easier. For us ten, it was a ride of a lifetime.
A Long Ride Around India
In Dec/Jan 2002-03, I undertook my first major Expedition. I led a team of three motorbikers who went around India over a period of 38 days and nearly 12,000 km. As I love to repeat, "Over the 38 days we did not see the inside of a hotel room!" We did not film this effort and unfortunately all the photographs that were taken during this expedition were lost. Sad, since it was one exciting expedition, with a lot of memories.