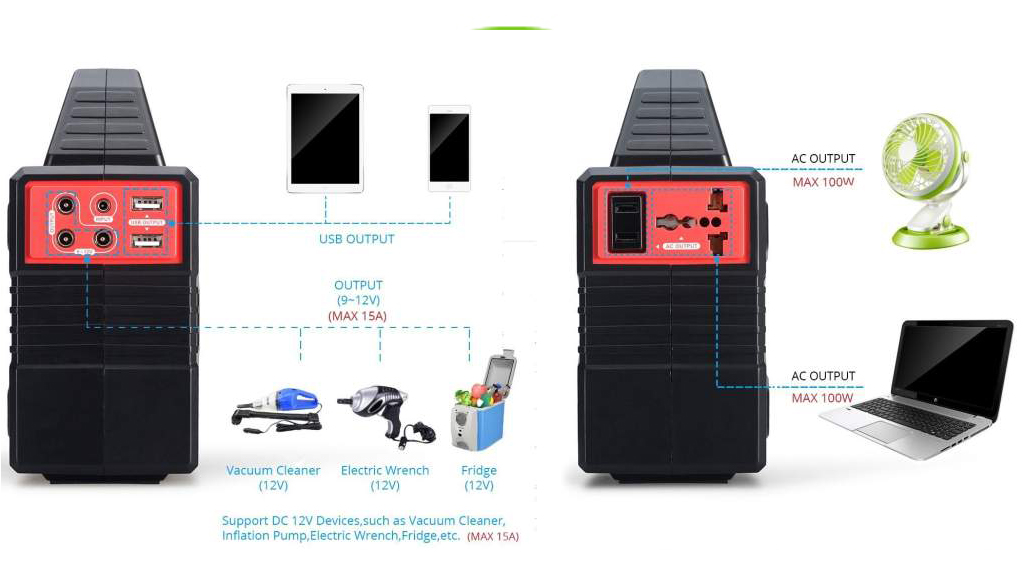 Slow Boat Down the Ganges Update 13
The day I was waiting for dawned about two o'clock this afternoon when the new solar generator I had ordered was delivered. I was very pleasantly surprised as I unboxed it and the package came out. The generator is light, I mean light. Particularly when I compare it with what I have been lugging around for the past three years. This is less than two kilos, has two AC outlet ports, two USB ports and three DC outlet ports. It has come fully charged out of the box.
However, as I expected, my solar panel does not connect with the provided cable or the cables I have. Which is understandable, since most electronics come with proprietary cables. However, I can charge it through the solar panel using the 12V cable that came with the unit. Have not tried it today due to cloudy conditions, but I am sure it will work. However, I am looking for a cable that bypasses the 12V port and connects directly. A visit to Asia's largest computer market did not yield results, since the size of the barrel connectors are non standard and I could find one that works.
One thing that did not not work, and that is one reason I need a solar generator and not just a power bank, is the fact that I need to charge my laptop. My HP Mini laptop charges beautifully with the Goal Zero unit, but when I connected it to the new unit, it just would not charge. There seems to be nothing wrong with the cable since the laptop charges perfectly well using the wall.
A little while ago, I wanted to try out something. My 17" ASUS laptop when connected to the Goal Zero trips up. I connected it to the new unit, it is charging just fine. Is it because this is a more powerful unit, or is it because it does not have a surge protector, is a question I need to answer. I know for a fact that this unit does have a surge protector, so it cannot be that. Maybe it is a more powerful inverter compared to the Goal Zero. Sounds implausible for something that is made in China, is half the cost compared to the Goal Zero, and is nowhere close to being the global market leader. But I do not want to push the inverter into doing something that it possibly is not manufactured to handle. I think I will look at replacing the power crick on the HP Mini.
Why do I call this new unit, the "new unit"? This is a generic solar inverter that is made in China who then supply it to all kinds of dealers who then brand it with their owns brand name and sell it. My one was purchased from a company in Bangalore called IFI Technologies, and I have been quite happy with my interactions with them. However, I did ask them to send me some extra parts and they could not do that since they do not store extra parts. That is a bummer.
By the way, I still have not heard from Goal Zero regarding my busted Yeti150. I will send them a reminder today. I would love to take two generators along with me instead of one. It will not be nice to have the one unit with me misbehaving and me not being able to do anything that is so important to me during the expedition ... charging camera batteries, charging the power banks, transferring footage into external hard drives, charging the phone which will require a lot of juice due to the live updates I plan to upload during the journey.
I hope Goal Zero comes back with a solution. Anyway, I am happy that I have at least one decent solar generator.
The other thing that has happened in the last 24 hours is that I have a wilderness survival Course coming up from Sep 10. This came about due to the fact that the Ganges expedition had to be postponed and a window opened up. This will be a seven-day Course and I am looking forward to it. There are two people coming and I hope they have a good time. I only hope the rains are moderate, and more importantly, the river next to which we usually camp for this Course, does not flood entailing a much more uncomfortable camping experience. However, like I keep repeating from a survivalist's perspective, there is no bad weather, just different kinds of good weather.
By the way, my last batch of mashed potatoes did not work out at all well. In fact the last two batches. The first of the two batches went stale since the dehydration timer I had set expired when I was asleep and by the time I went to check, the potatoes had not dehydrated and due to the moisture, had gone bad. The second batch dehydrated quite well, but there were areas where it was spread too thick to dehydrate properly. Will work, but it did not turn out like I would have expected. Now that I have some time, I plan to dehydrate some minced mutton, in India we call it keema, in the West they would call it hamburger. I have made this before and it turned out quite well.
Now that my preparations for A SLOW BOAT DOWN THE GANGES is almost done, and that I will be out for a week from Sep 10, there may not be too much write as a part this continuing blog for a while.





(3 votes, average: 5.00 out of 5)


Loading...